Contact Information: 24 Hours
RAH Environmental Inc.
4645 Raley Blvd Sacramento, CA 95838 USA

Phone: (916) 563-7770
Toll Free: (800) 234-7241
Colfax, CA: (530) 637-1777
Truckee, CA: (800) 234-7241
Fax: (916) 367-4301

Map or Driving Directions to our offices.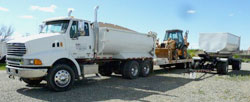 RAH Environmental Inc. is a licensed, fully insured environmental services, construction, and consulting company that has been in business for 27 years. Located in Sacramento, RAH is in business to service industry, learning institutions, government facilities, railroads, small businesses, property management companies and owners throughout California.
Licenses and Certifications
• California Contractors Lic. #592216: A, B, C-21, C-57, HAZ, ASB
• California Environmental Assessor # 724
• Transporter EPA I.D.# CAR000173641
• CalEPA/DTSC Waste Hauler #: 2965
• Asbestos DOSH Certification #832